Chams Rcrds

Tracing the Musical History of the Arab World


/SENIOR PROJECT/
ADVISOR: LEILA MUSFY




Chams Rcrds is a fictional record label that traces the musical history of the Arab World from the 40s–90s through theme-based and artist-based playlists.

The theme-based playlists include songs that tackle the same theme through different takes (the city/the sea/travel). The artist-based ones follow the lives of Arab artists who aren't as known or appreciated but were integral figures of the growth of the music scene at the time. I chose Al Balabel, Omar Khorshid, and Ibtisam Lutfi. The playlists include songs that link to the artist's most important life events and can also include songs that weren't sung by them but had an important role in their musical career. /Example: the first song Ibtisam Lutfi sang was by Umm Kulthum, so this would be the first song in the playlist/.



I aimed to create a series of album covers that is dissociated from the past and isn't trying to compete with the older album covers

/that we all love/

but at the same time isn't directly influenced by the West. I included layers of

information/data visualization relating to the history, culture, and language

of the Arab World on the album art when it comes to the theme-based playlists.

/For example, the "Sea Songs" album cover shows the different ways one can say "sea" in Arabic./

As for the artist-based ones, I focused on a particularity of the artists' lives and used that to find the connections and relations they had with other artists.

/Example: Omar Khorshid died questionably in a car crash, so the cover art includes in a timeline the names of different Egyptian artists who also died questionably or controversially/

All the label's graphical products and applications are

bilingual /Arabic & English/

so that the music can be accessible to a wider audience.

Instagram:

@chamsrcrds

Listen to the playlists on

Soundcloud
The logo can be used both vertically and horizontally depending on where it's being applied and the space it is occupying. For example, it is horizontal on the backside of the album covers, while vertical on the LP labels.

logo animation based on the music being promoted (Omar Khorshid- Enta Omri).
The goal is to have one for every artist/theme; to be posted on Instagram.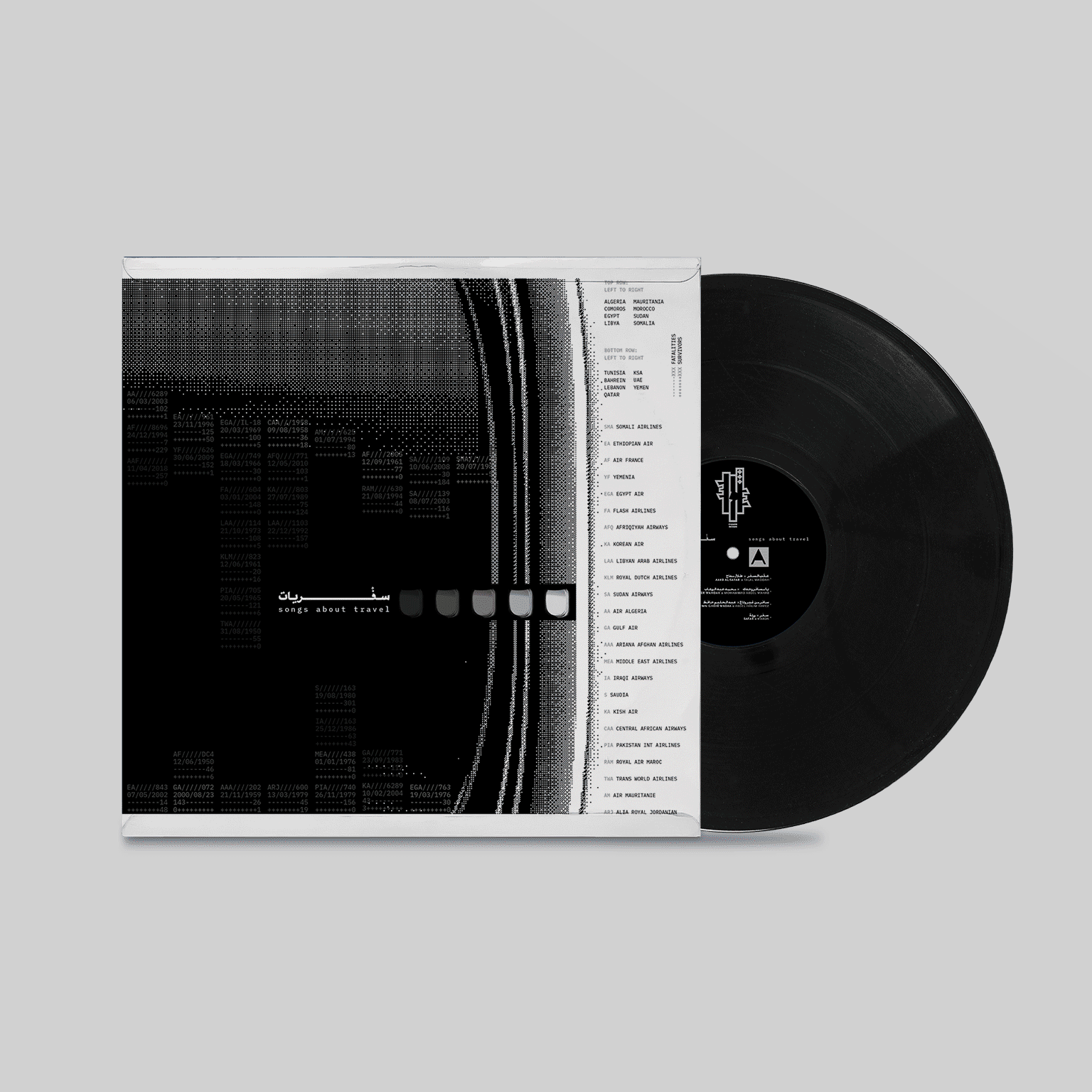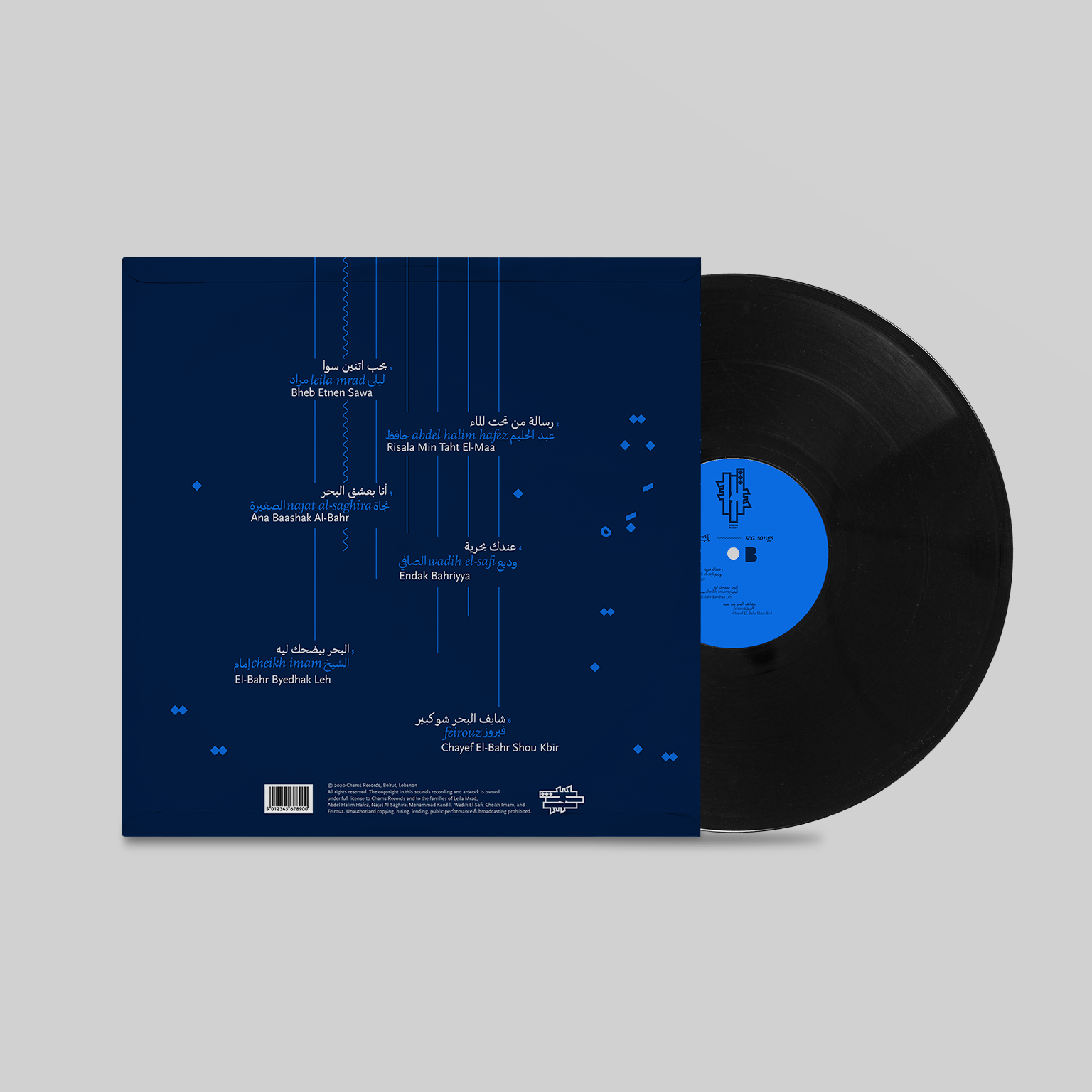 The fronts, backs and LP labels of the 6 different album covers designed
The kashidas in the logo can also elongate, which allows for more play with the surface they are interacting with.



Inside inlays of the record sleeves: Top Left: Sea Songs/البحر - Top Right: The City and Music/المدينة والموسيقى - Bottom Left: Ibtisam Lutfi: Her Life in Music/ ابتسام لطفي: حياتها عبر الموسيقى - Bottom Right: Omar Khorshid: His Life in Music/ عمر خورشيد: حياته عبر الموسيقى
I wanted to create a contrast between the cover art and the inside inlays, as the covers give a more abstract and geometric feel, the inside inlays have the pictures that provide historical context. In addition to the pictures, the inlays of the all the covers provide the basic information about the chosen artist or themes while all having a timeline in common, as to associate the chosen music to the artist's lives and different contexts.
I worked on an Instagram page to promote the label, providing information about the artists and themes chosen and showcasing the album covers and music visualizations (logo animations). This virtual launch could be successful in times like these, when people are spending more time than ever on social media platforms, and always hoping to discover new (or old) music.
This was my Final Year Project at the American University of BeirutSome of the resources I used throughout: Domtak, Ma3azef, Raseef22, Discogs, Stepfeed, Yallafeed, Arageek, Al Masri Al Yom, Al Sawsana, Al Jazeera English, Annahar, and my many musical friends!